At the start of March 2020, New York City began to brace for what we now know as the worse public health crisis since 1918 – The Covid-19 Pandemic. As cases began to climb and individuals become infected with the virus, New York City went into a strict lockdown. Businesses were closing left and right, schools were shutdown and travel was restricted.
For the fashion industry, those measures were incredibly damaging. The international fashion calendar was sidetracked, shoots were halted and in-person shopping was impossible. Fashion professionals needed to create alternative avenues to display their esthetic all while staying inspired. For fashion expert Jeffrey "Che" Ampratwum, the desolate New York City became a new canvas for him to paint on with his prophetic style and engaging personality. We recently caught up with the fashion taste maker and creative director on how he was able to pivot during the pandemic and create the new trends for today.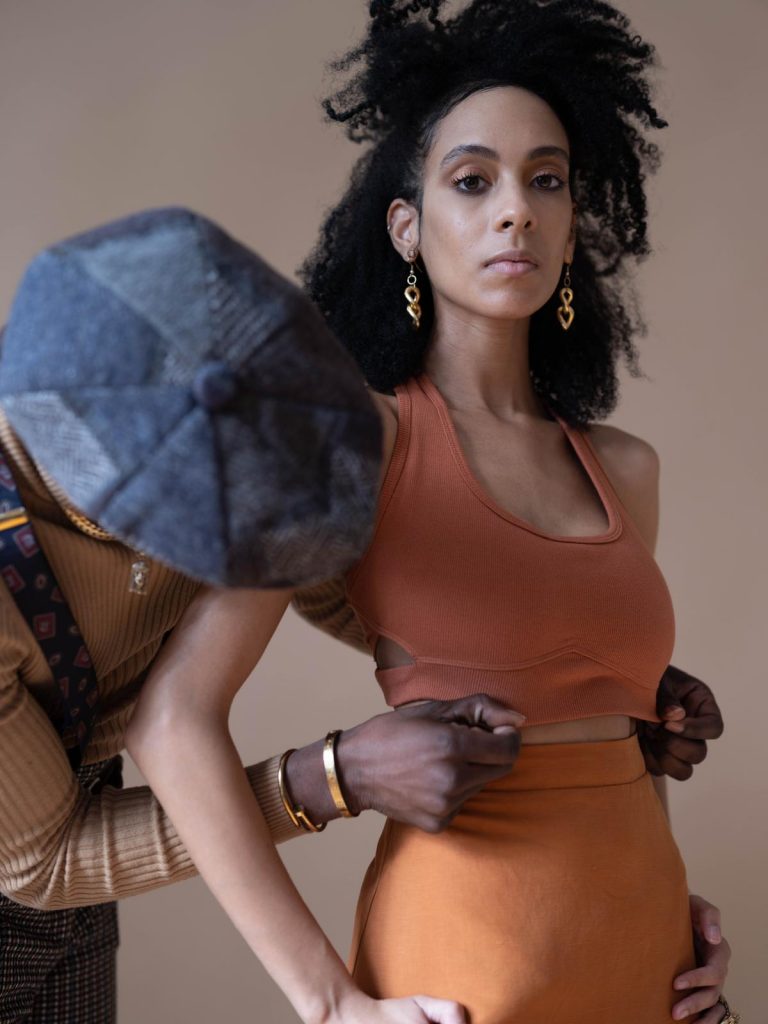 GBAfrica: New York City is like a dream for everyone to travel to or live there. We have to admit. What does the city do for you?
Jeff: The city has a pulling and pushing power that you have to be aware of. The force is immense. I'm born and raised in NYC, in the Bronx to West African parents from Ghana – so that was all the ingredients I needed to be creative. I had a reserved underlying respect for everything and everyone, but I was also very quick thinking, fast moving and collaborative. A great storm in my eye.
GBAfrica: New York City is considered the fashion capital of the world. Do you believe that and if so, how has it shaped your creativity?
Jeff: New York City is definitely the fashion capital of the world simply because of the way it is exhibited here, in style. For sure, Paris, France is home of couture and Milan, Italy is home of fine tailoring – but New York City will show you how to put those looks together. Every and all of them at once or separately. It is truly a skill. I learned this very early on in middle school mix and matching my outfits. I literally created new looks every week without really noticing. I was becoming a stylist and I wasn't aware of it.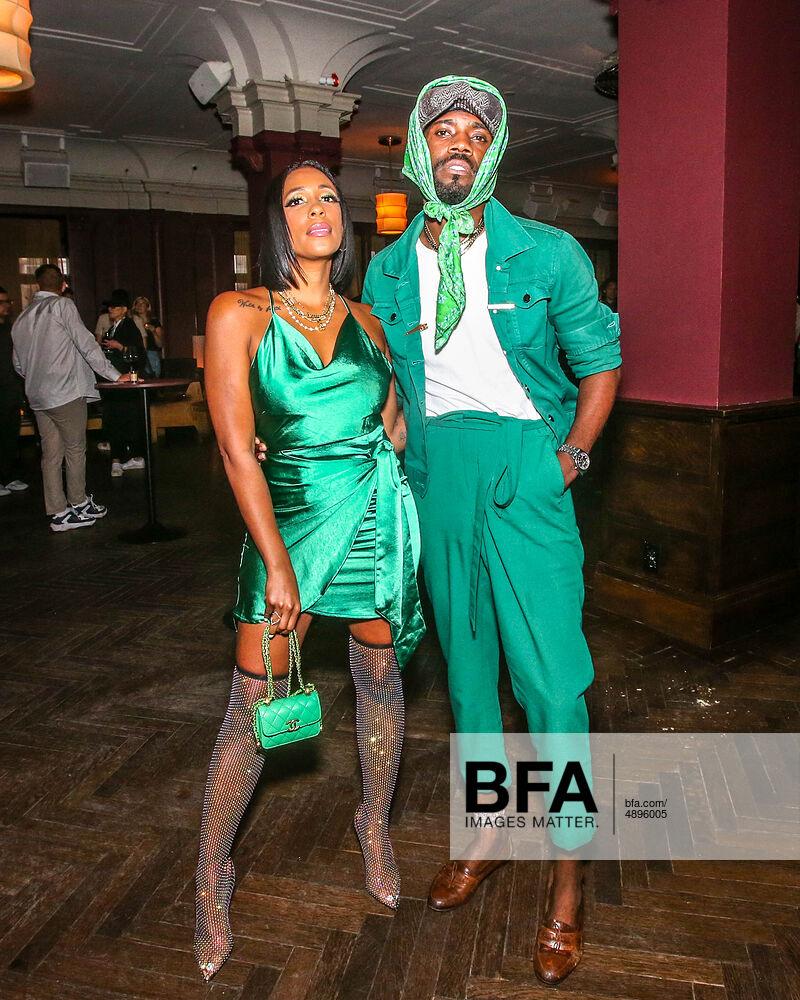 GBAfrica: Talk to us about the New York influence.
Jeff: If you take a close look at legacy brands and their offering and collections each season, there will always be street style references and motifs within their designs. This streetwear or freestyle form of dressing essentially comes from the hip-hop culture which is born in the Bronx, NY. I was born just five minutes from where the first hip-hop party was thrown. So you can just imagine the influences growing up.
In the early 80's, street artists were creating amazing clothing looks – most notably Dapper Dan – with his Gucci references, and graffiti became the new Art Deco. I inhaled all of this in the early 90's and created my own style. Every year or so, I would switch things up – add and substrate pieces until it became automatic. I was ready to hit the city streets and connect with others in fashion.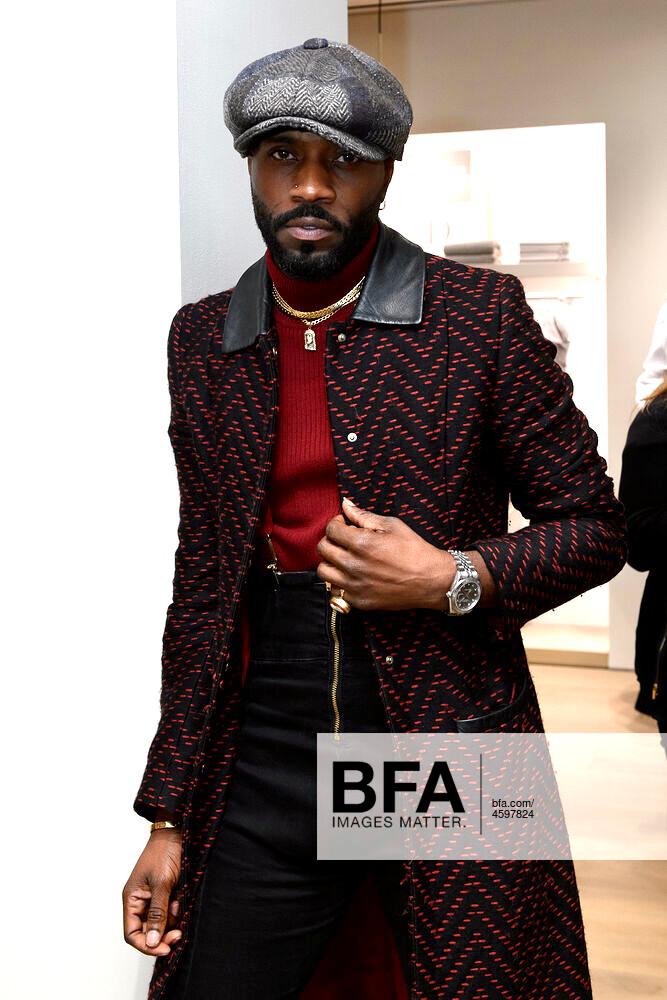 GBAfrica: How do you get into fashion exactly when you are living in New York City? Is there a school to attend or formal education needed?
Jeff: Great question! We are a secret society and I cannot share this. Ha, just joking. Honestly, people will be surprised to know that there are fashion studies at all levels of education. Starting at elementary through collegiate – fashion courses are available for those who possess forms of creativity that can be nurtured.
For example – I run one of the only fashion studies program in the city in the Bronx for elementary and middle school students. They learn everything from creative fashion direction with respect to makeup application, grooming, style and design to photography, editing and modeling. It serves as an incubator to prep the students for careers in fashion. It is truly a joy seeing the young scholars showcase their talents. Then there is also fashion careers at the university level – most notably The Fashion Institute of Technology, where I teach. The school has a plethora of majors and disciples to choose from, a robust community initiative and competitive job placements with opportunities. Some of your favorite designers have come from that school. I am also an alumni, so it's pretty serendipitous.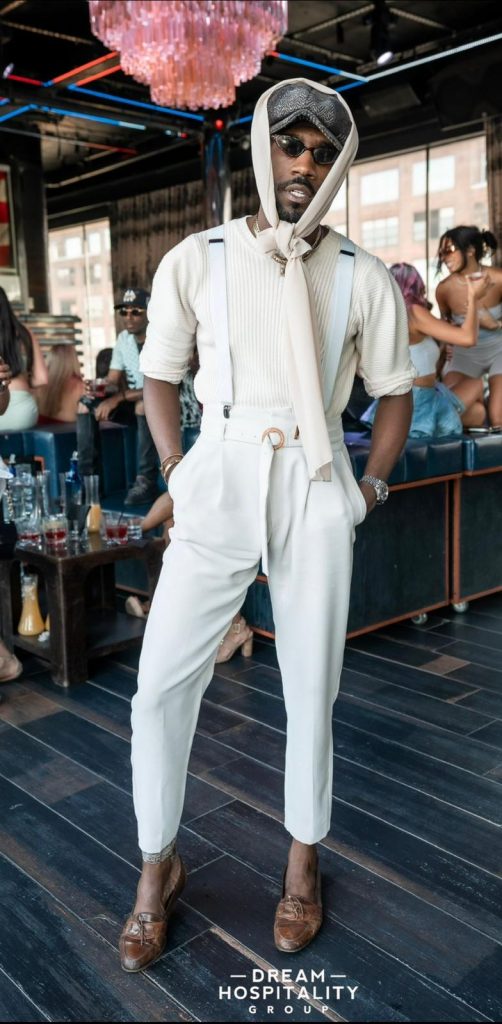 GBAfrica: What exactly is trend forecasting and how do you identify it in NYC specifically?
Jeff: Trend forecasting is the art of knowing what's to come down the streets and eventually down the runways! As stated before – most style influences are derived from every day normal people with their own ideas of creative dressing. These styles get picked up in photo and morphed into an entire obsession or collection. Of course, it is amplified and enhanced so that it becomes marketable. I am able to intercept trends because I have started many trends within the fashion community with respect to menswear.
When styling celebrities – both womenswear and menswear – I tend to introduce new looks not yet seen before. Those looks will get attention and then duplicated by their peers and contemporaries. I would love to share who and what, but I'm under embargo for some of the styling work that I do. However, you have seen some of these staple looks!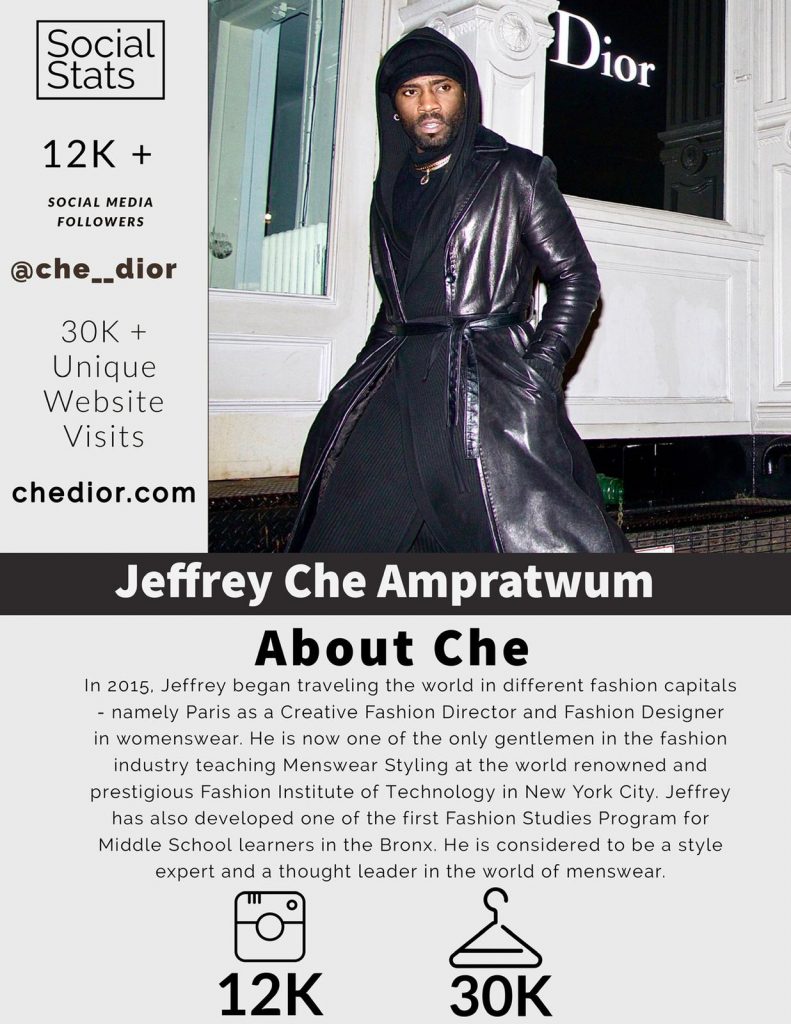 GBAfrica: That is interesting! We would love to know! – How would you describe your personal style?
Jeff: My personal style is mastery of all styles. I think the ability to match various styles in one look is a science, and the ease of alternating looks adds to the arsenal of style. There isn't any step by step guide because it is unique to me – however, there are some takeaways with each look that I wear. I share these nuances with my students and with my clients. One item you should always keep with you is a simple navy blazer. It doesn't matter if you are going to the mall, movies, park, dinner or meeting your significant other's parents – this blazer will save your life. How to wear it and pair it is another discussion.
As of now – I am developing an entirely new style for traditional dressing and classic menswear as well as some interesting streetwear looks, and combining them with luxury. I believe that's what gives Che his signature style and some of New York City it's fresh air.
Instagram: @che_dior