"We need songs and hymns that can touch our emotional nerve," Rocky says. Musical offerings that serve as timely reminders that "love and hope are an indestructible aspect of the human experience that no amount of fear can take away." – #RockyDawuni speaking to "Music in Africa"​
Rocky Dawuni's "Voice of Bunbon Vol. 1" has been nominated for "Best Global Music Album" for the 64th Annual GRAMMY Awards which will be held in Los Angeles on January 31, 2022! Femi Kuti & Made Kuti, Wizkid, Angelique Kidjo and East West Players featuring Daniel Ho have all been nominated in the same category. This is Rocky's second GRAMMY nomination as he was previously nominated for "Best Reggae Album" for his "Branches of the Same Tree" (Cumbancha) in 2016 making him the first Ghanaian musician to be nominated for a prestigious GRAMMY award!!
"Voice of Bunbon, Vol.1" is available on all major platforms https://tinyurl.com/yy7xo2nf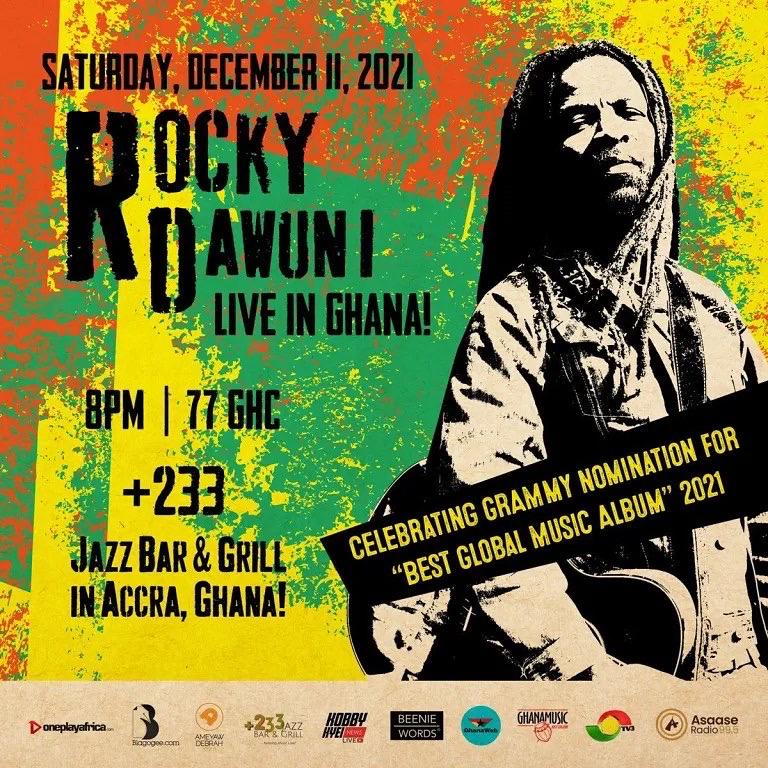 Rocky Dawuni will be celebrating the GRAMMY announcement with a home town show on Saturday, December 11, 2021 at +233 Jazz Bar & Grill in Accra, Ghana!! Rocky be playing with his full 10-piece band so please come and support LIVE music in Ghana. Tickets are GHC77 and will be available at the door. The concert is kindly supported by Asaase Radio, TV3, Ghana Music, Ghana Web, BeenieWords.com, Kobby Kyei News Live, Ameyaw Debrah, Blagogee.com, OnePlayAfrica.com.
The Voice Of Bunbon has spoken! Those who like Rocky Dawuni's former works will love this EP – it adds a new flavour to the artist's output without losing his characteristic style. Well done, Team Rocky!" #Reggaeville
​Rocky Dawuni "Woara" Video:​ ​https://youtu.be/NQbuYWSXzsU ​
​Rocky Dawuni "Beautiful People" Video​: https://youtu.be/Upb7bjyZJeA
​Rocky Dawuni "Ghost Town" Video​: https://youtu.be/WIGe4-YjWWQ
​Reggaeville Review: https://www.reggaeville.com/artist-details/rocky-dawuni/releases/mode/review/release/rocky-dawuni-voice-of-bunbon-vol1/
​Music In Africa Review:​ https://www.musicinafrica.net/magazine/rocky-dawuni-talks-about-his-new-ep-voice-bunbon-vol-1
For more information and social media connects, please follow Rocky Dawuni at:
​http://www.youtube.com/rockydawunimusic
​http://www.facebook.com/rockydawuni ​
​http://www.instagram.com/rockydawuni ​
​http://www.twitter.com/rockydawuni
MEDIA / PRESS / RADIO: To request download link, press images, etc – please email Cary Sullivan at afrofunke@yahoo.com and / or Elorm Beenie at beeniewords@gmail.com​
(Source: Elorm Beenie)