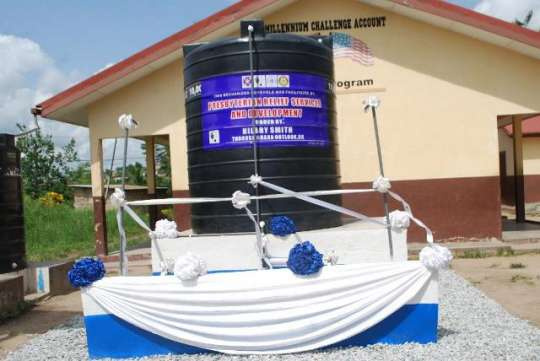 Four major market centers in the Ayensuanu Constituency of the Eastern Region have been provided with mechanized boreholes facility as part of a nationwide exercise by government to provide potable drinking water for all Ghanaians as well as fight the spread of the coronavirus.
The Eastern Regional Minister Eric Kwakye Daffour said the boreholes project formed part of the directives given by President Nana Addo Dankwa Akufo-Addo to make water available for all Ghanaians especially during this difficult era of the COVID-19 pandemic also to provide potable water for traders at the market centers.
The beneficiary communities are Nubesu, Amum-Apapam, Dokrochiwa and Amanase all in the Ayensuanu district.
Addressing the media Eric Kwakye Daffour said the Akufo-Addo government, has demonstrated its commitment to inclusive development in less than four years by extending development to communities in and around Adeiso, stressing that this was proof of what the government has done for the people of Ayensuanu in just three and half years
The Minister urged the chiefs, assembly members, Unit Committee members and opinion leaders to continue to educate the people on the dreadful COVID-19 disease.
He urged the residents of the area to respect the directives of the President and the Ghana Health Service because the COVID-19 Pandemic has brought untold hardship to people all over the world including Ghana.
The District Chief Executive of Ayensuanu, Florence Governor said additional boreholes would be provided at newly developed communities in the District where Ghana Water Company had not been able to provide potable water, adding that, the boreholes facilities provided to those select areas are based on population and daily revenue generated at the market.
She entreated voters in communities at Ayensuanu Constituency to vote massively for the NPP both the presidential candidate and the parliamentary candidate to continue its development of communities.
Berima Opoku Agyeman, the chief of Dokrochiwa, praised the implementation of the free SHS education policy which had benefited many youth including his children in the constituency.
He thanked the MP and the MCE for the provision of the borehole to the communities to prevent the COVID-19 spread as people must regularly wash their hands.
He appealed to the Minister to have the road in the catchment areas to revamped to aid easy transportation of goods and services.
Some market women expressed gratitude to the government for the kind gesture and appealed to the assembly to help constructed urine and toilet facilities at the market to help improved on the living conditions.