Samuel Takyi: The burgeoning boxer defying expectations and fighting for a place among Ghanaian sporting greats
To muscle closer to the medals Samuel Takyi must first eliminate Colombian Ceiber David Segura Avila in the men's featherweight quarterfinals at Tokyo 2020.
Ghanaian boxer Samuel Takyi is exactly where no one once expected him to be.
The 20-year-old's inclusion in the team's preparations ahead of the Tokyo 2020 Olympic Games, in 2021, initially raised eyebrows.
Through grit, determination, and sheer resilience the boxer has fought against the surprise of his critics and shown his worth.
Now he stands just one bout away from the medal zone at Tokyo.
Should Takyi progress and come away with a medal, the boxing upstart would end a 29 year-long medal drought for the western African nation, and forever find his name alongside the greats of Ghana's rich men's Olympic boxing history.
Before him there was Clement Quartey, a light welterweight who won silver in Rome 1960; then there was Eddie Blay a bronze light welterweight medallist from Tokyo 1964; then the most recent medal winner: Prince Amartey, a middleweight who won the bronze in Munch 1972.
But no boxer has medalled ever since.
The expectations surrounding the man known as "The Golden Ring Warrior" is building every day.
It's been a long wait for Ghana, but time will soon be up. Can young gun Takyi rise to the occasion and give his nation a cause to celebrate once again?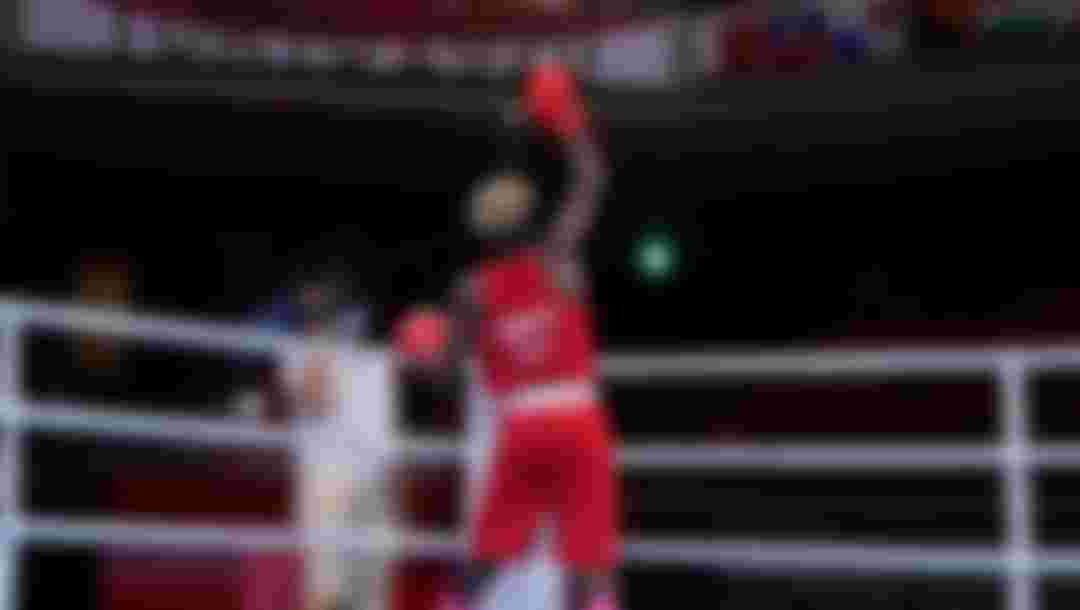 TOKYO, JAPAN – JULY 28: Samuel Takyi (red) of Ghana celebrates victory over Jean Carlos Caicedo Pachito of Ecuador during the Men's Feather (52-57kg) on day five of the Tokyo 2020 Olympic Games at Kokugikan Arena on July 28, 2021 in Tokyo, Japan. (Photo by Frank Franklin – Pool/Getty Images)
2021 Pool
Samuel Takyi: Love at second sight
Takyi did not always want to box.
Football was the first sport that ever called to him but at eight-years-old, once he put the gloves on he fell in love.
Perhaps it was the rush of fury that boxing incites or, more likely, he felt the call of Bukom, a breeding ground of previous Ghanaian boxing world champions.
In little time Takyi, after joining the Discipline Boxing Academy in Accra, was catching the eyes of the national amateur team.
To be selected for the team the young was asked to show his worth; he had to fight team captain Sulemanu Tetteh.
The bout was as fierce as it was fiery. The ringside officials were forced to cut the clash short in order to bring calm to the boxers' supporters who were urging their fighter on.
Takyi had done what he needed to demonstrate his quality and talent; he qualified into the national set up and his talent began to be tamed.
In training he was humble, but always showing his reams of potential. Takyi was the new entrant no one anticipated, but now no one could ignore.
Perfecting his punches to prove his worth
With Takyi's young age and relative inexperience in the ring, proving to his peers that his potential could handle the bigger stages was paramount.
There could be no greater test than the 2020 African Olympic boxing qualifiers in Dakar, Senegal.
In his first-ever international appearance, Takyi shocked the world watching ringside when he defeated the top-seeded featherweight Mohamed Hamout of Morocco.
When he fell short of the final after a loss to Everisto Mulenga in the semis, the young boxer showed emotional maturity to bounce back and beat Isaac Masembe of Uganda to take third place in the qualification tournament and ultimately book his ticket to Tokyo.
"I am wild like an eagle, a lion, and a cobra."
Those were the words of the youngest amateur boxer competing at Tokyo 2020 for Ghana when he spoke to Modern Ghana, ahead of the Games.
Now in the Japanese capital Takyi has evidenced his fistic prowess.
In the preliminary round of 32, the young boxer received a bye. In his round of 16 bouts, Takyi dispensed with Jean Carlos Caicedo Pachito of Ecuador, winning the fight unanimously to move to the quarterfinals.
The challenger that now awaits the Ghanaian will be Ceiber David Segura Avila of Columbia. The 32-year-old southpaw secured his spot at the Games via the IOC Boxing Task Force rankings.
Could it be time for a Ghanaian to repeat history in Japan? The collective national memory of Blay's victory in Tokyo in 1964 certainly looms large.
For now, Takyi must block it out; for now, Takyi must once again show his worth.
One Minute, One Sport | Boxing
01:34
"One Minute, One Sport" will show you the rules and highlights of Boxing in one minute